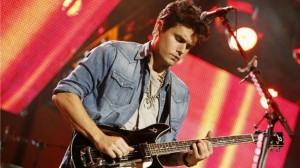 Bob Weir of the Grateful Dead paid a visit to the CBS Late Late Show with guest-host John Mayer Thursday night.
Mayer expressed amazement that the Dead have been around for half a century. "Fifty years," Mayer said incredulously. "Did you ever imagine you'd be in a band [for] 50 years?"  "Come on, be serious," Weir laughingly replied. "Nobody thinks about that kind of stuff."
Mayer claimed to be a "Grateful Dead convert of about three years," explaining he found the band when he was under doctor-ordered vocal rest following a polyp procedure. "The music came over me so hard…I couldn't even speak at the time…and the music just found me. I was so blown away by it," Mayer said.
As fans know, the Dead recently announced Fare Thee Well reunion shows, which are scheduled for July 3, 4 and 5 at Soldier Field in Chicago.  The concerts will celebrate the band's 50th anniversary and also are expected to be the last shows the surviving original Dead members will play together.  Weir, bassist Phil Lesh and drummers Mickey Hart and Bill Kreutzmann will be joined by special guests Trey Anastasio of Phish, Bruce Hornsby and Jeff Chimenti.
Weir told Mayer they'll be going by the name the Dead, explaining, "I think we're going to call ourselves the Dead. I think the Grateful Dead, you can't when half of those guys are pushing up daisies, you can't call it that."
Weir and Mayer pair performed "Truckin'" and "Althea."

Copyright © 2015, ABC Radio. All rights reserved.