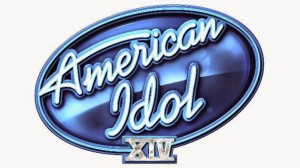 Hollywood Week continued on American Idol Thursday with more golden ticket winners filling the Orpheum Theater for another shot at impressing judges Keith Urban, Harry Connick, Jr. and Jennifer Lopez.
At the end of Wednesday's show, contestant Gabby Zonneveld's nerves got the best of her, causing her to lose her place in the middle of her performance of Delta Rae's "Bottom of the River." Thursday's show opened with her getting a second chance and making it all the way through this time. She advanced to the Group Round.
Other contestants making it to the next round on Thursday's show included Alexis Gomez, who tackled Carrie Underwood's "Before He Cheats; Clark Beckham, who performed Marvin Gaye's Let's Get It On"; Daniel Seavey, who sang Ed Sheeran's "Thinking Out Loud"; Shi Scott, who belted out Amy Winehouse's "Mercy"; and Loren Lott, who performed Imagine Dragons' "Radioactive." When asked how she felt about advancing, Loren replied, "I feel like kittens and cotton candy and gummy bears and coffee and chocolate and chocolate. And just everything great in life."
Dakota Suarez, who had hoped to be Idol's first drag queen contestant, was among those sent home.
With the individual performances completed, Urban informed the remaining contestants they were about to enter the most challenging part of Hollywood Week — the Group Round, in which contestants were asked to showcase their ability to collaborate by dividing themselves into groups of four and choosing a song that allowed each of them to stand out, while also working well as a unit.
First to take the stage was Double Stuff, consisting of David Oliver Willis, Clark Beckham, Jesse Cline and J. None. They performed "Signed, Sealed, Delivered, I'm Yours," by Stevie Wonder. J-Lo thought the combination made for a strong group and "a lot of the harmonies were beautiful." Connick said the performance was "a great way to start the day." Urban thought there were great moments, but also some inconsistencies. All four moved on to the next round.
Next up, it was Shiba Squared, which teamed Shi Scott, Andrew Bloom, "Big Ron" Wilson and Adam Ezegelian, harmonizing on Michael Jackson's "P.Y.T. (Pretty Young Thing)."  Keith thought Shi did "exceptionally well," but Adam was unable to stand out alongside the others. Lopez and Connick agreed. Scott, Wilson and Bloom moved on. Ezegelian was sent home.
The Dream Team, made up of Maddy Hudson, Reno Anoa'I, Tyanna Jones and Steffi Ledbetter, disappointed the panel with their version of the Jackson 5's "I Want You Back." J-Lo called the performance "shaky." Connick noted they were too concerned with "out-licking each other." The judges agreed that Steffi was the group's weak link and was sent home.
Team Dimples, comprised of Jaq Mackenzie, Nick Fradiani, Hunter Larson and Michael Simeon, impressed all three judges with their version of "Rude," by MAGIC!  All four members of Team Dimples advanced.
The show ended with a cliffhanger. Sal's Gals originally featured Sal Ventinetti, Jax, Kelly Kim and Kaitlyn. Alexis Glanville, who was the only contestant without a group to perform with, was added as a fifth member. However chaos ensued when Alexis suffered a panic attack, forcing the group to decide between taking a chance performing with Alexis or moving forward without her. Alexis seemed to recover, but had to be carried offstage when the team was ready to perform. We'll have to wait until next week to find out what happened.
Hollywood Week on American Idol continues next Wednesday on Fox at 8 p.m. Eastern time.