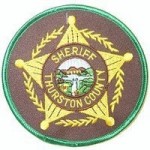 If voters approve, Thurston County will build a 34-bed jail to replace the old jail that's housed prisoners in the courthouse basement since the 1920s.
The Board of Supervisors decided last week to place a $5.9 million bond measure on the April 14 ballot. Officials say the old, 25-bed jail doesn't meet modern standards for inmate care and security. Supervisor Leonard Peters says Thurston County has letters of commitment from Burt, Cuming, Dixon, Stanton and Wayne counties to house inmates in a new Jail.
The replacement would be built in Pender.