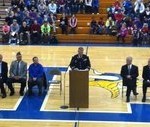 Columbus, NE ~~ Columbus area Veterans were recognized this morning during a ceremony held at Lakeview High School.  Guest Speaker State Veterans of Foreign Wars Jr. Vice Commander Doug Whitaker says Veterans Day is a day to remember all who served.
Whitaker says "it is this day each year, November the 11th, that Americans pause to remember the millions of brave men and women who have worn this nation's uniform in order to defend what has been called the greatest Democracy the world has ever known."The ceremony included performances from the Lakeview High School Band, Viking Voices, and the American Legion Chorus.

Several local and state dignitaries were also on hand at the ceremony.  Various programs and celebrations are being held across the area today to honor those who have served and are currently serving in the military.