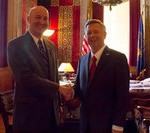 Lincoln, NE (AP) ~~ With the election over, Nebraska Gov.-elect Pete Ricketts is preparing to make the transition to office.
Ricketts met with outgoing Gov. Dave Heineman on Thursday to talk about the state budget process, personnel issues and other matters related to the office's day-to-day operations.
Ricketts also announced he will appoint Matt Miltenberger, his campaign manager, as his gubernatorial chief of staff. His deputy campaign manager, Taylor Gage, will serve as the transition team's communications director.
Ricketts says he has called newly elected senators to congratulate them after Tuesday's election, and expects to make staffing announcements soon. Heineman, the state's longest-serving governor, says he's confident that Ricketts will hit the ground running.
Ricketts will be sworn in as Nebraska's 40th governor on Jan. 8.