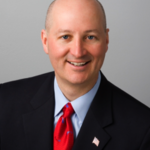 Lincoln, NE (AP) ~~ Republican Pete Ricketts, a multimillionaire former executive at TD Ameritrade, has been elected governor of Nebraska.
Voters on Tuesday chose Ricketts, of Omaha, over Democrat Chuck Hassebrook, who for decades headed a center in Lyons that advocated for family farms and rural communities.
Ricketts will replace Republican Dave Heineman, who served nine years as governor but is being forced out by term limits.
In the campaign, Ricketts said his priority as governor would be to cut taxes. He also argued that benefits should not be given to immigrants in the country illegally and supported career and vocational training to expand manufacturing jobs.
Ricketts is a former executive at TD Ameritrade, an online brokerage founded by his father. His family owns the Chicago Cubs baseball team.